2009.03.14 Saturday
ニセコなだれ情報91号 Niseko Avalanche Info no.91
山麓6時+2度、重い湿雪15cm、雨なよる融雪。
弁慶岬南4m/sカムイ岬東北東3m/s波高1m気圧987hPa、山頂風速計6時半西8.4m/s。
低気圧通過の暖気流入により夜半までの降雪は湿雪スラブとなり標高800m以下の崖斜面、リフト線下、コース法面で厚さ15cmの雪崩が起こりやすい。
昨日午前中に東尾根雪庇下でハードスラブ破壊による面発生表層なだれが発生している。
傾斜40度のふきだまり斜面では3月10日層以上の風成雪スラブからの雪崩リスクが継続して高い。
春の滝、水野の沢など立ち入り禁止区域では大規模な全層なだれの可能性。同様に大沢、鉱山の沢の全層なだれリスクは高まっている。
全ゲートは閉じられる。
ルールの尊重を求める。
Moiwa base 6am: +2℃, 15cm of wet/heavy snow, now meting with the rain.
4m/s S at Benkei cape, 3m/s ENE, 1m waves and 987hPa at Kamui cape.
Peak anemometer 6am: 8.4m/s W.
The wet snow, due to warm air mass brought by the passing Low, has turned into a wet slab of 15cm, that could easily slide in steep slopes, under lift lines and also banks nest to courses under 800m.
A few surface slab avalanches, due to collapsing hard slabs has occurred yesterday morning in Higashi-One cornice area. Avalanche risk from snowdrift slabs is remaining high in steep 40°slopes.
Full depth avalanches are also to be highly considered in strictly off limits areas such as Haru no taki and Mizuno no sawa, as well as Osawa and Kozan no sawa (Backbowl).
All gates will be closed, we request everyone's esteem of the Niseko Rules.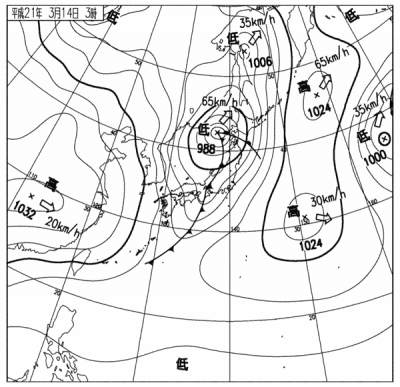 気象庁発表 3月14日3時 実況天気図 
Weather chart at 3am Mar 14th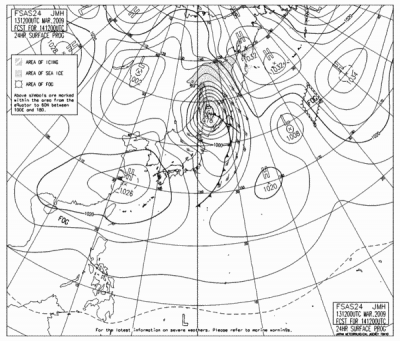 3月14日21時 予想天気図
Prediction chart at 9pm Mar 14th